TT's: DJ Jazzy Jeff & Mick Boogie Mixtape
August 26th, 2010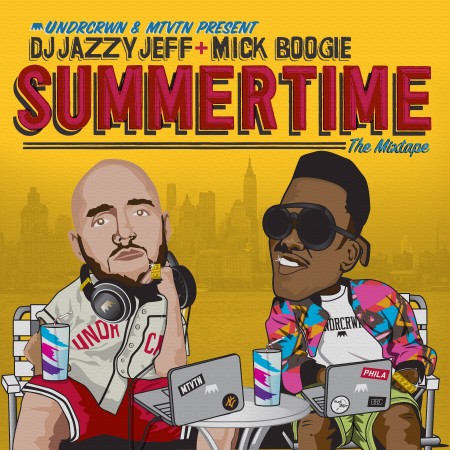 We have all been constantly bobbin' our heads at the EP Studio for the past few months and think this mixtape perfectly fits the nostalgia of Throwback Thursday's. DJ Jazzy Jeff & Mick Boogie teamed up with Undrcrwn.com to put together this amazing mixtape for your summer BBQs. Featuring an amazing medley of nostalgic R&B / Hip Hop jams cut up with the original tracks that were sampled. Your head too will be bobbin' non-stop for 60 minutes….Enjoy!
Download it HERE!
Track list after the jump…
Tracklist:
1. Summertime Intro
2. Kool & The Gang: Summer Madness (Live Version)
3. Kool & The Gang: Summer Madness
4. Quincy Jones: Summer In The City
5. Ahmad: Back In The Day
6. Ice Cube: It Was A Good Day
7. Roy Ayers f/ Mary J Blige: Everybody Loves The Sunshine
8. Pharcyde: Passin' Me By (Ffej Remix)
9. Jay-Z f/ Babyface: Sunshine
10. Ramsey Lewis: Sun Goddess
11. A Tribe Called Quest: Find A Way (Ffej String Edit)
12: Bush Babies f/ Mos Def: The Love Song
13. Jodeci: Get On Up
14. The Commodores: High On Sunshine
15. J Dilla f/ Dwele : Think Twice
16. Erick Sermon f/ Marvin Gaye: Music (Mick's Marvapella Edit)
17. Bernard Wright: Who Do You Love
18. LL Cool J: Loungin'
19. A Tribe Called Quest: Hot Sex
20. Main Source: Live At The BBQ
21. Nuyorican Soul: Nautilus
22. Pharcyde & Sublime: Summertime
23. Fresh Prince and Jazzy Jeff: Summertime Remix
24. Michael Jackson: I Can't Help It
25. De La Soul: Breakdawn
26. Musiq: Just Friends
27. Carl Thomas: Summer Rain
28. Faze-O: Riding High
29. Dionne Warwick: Walk On By
30. Skee-Lo: I Wish
31. Black Moon: Who Got The Props
32. Frankie Beverly and Maze: Before I Let Go
33. Nu Shooz: I Can't Wait
34. Montell Jordan: This Is How We Do It
35: The Roots f/ George Benson: Breezin'
36: Fresh Prince and Jazzy Jeff: Time To Chill
37. Biggie: Can't You See
38. James Brown: The Payback
39. En Vogue: My Lovin'
40. Bobby McFerrin: Sunshine Of My Life
41. Fifth Dimension: Let The Sun Shine In
42. Mos Def: Sunshine
43. Nine: Whatcha Want
44. Otis Redding: Sittin' On The Dock
45. 2Pac: I Get Around (Mick's String Edit)
46. Zapp: Computer Love (Terry's Mirage On The Water Mix)
47. Seals And Croft: Summer Breeze
48. Jay-Z: Dear Summer
49. Weldon Irvine: Morning Sunrise
Tags: DJ, DJ Jazzy Jeff, Mick Boogie, Music, Summer
This entry was posted on Thursday, August 26th, 2010 at 7:54 am and is filed under DJ, Music. You can follow any responses to this entry through the RSS 2.0 feed. You can leave a response, or trackback from your own site.