Kanye West Album Cover Banned
October 19th, 2010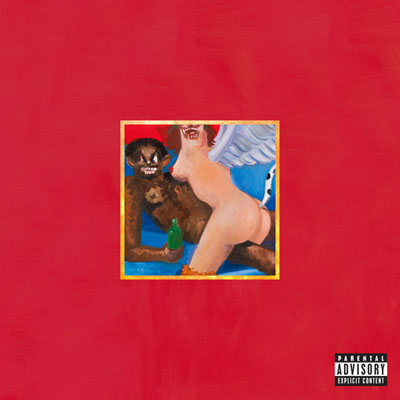 So Yeezy's new album is set to drop this fall and the word on the street is that def jam has already banned the cover. A nude black devil being straddled by a naked angel all bordered in red. Below are Kanye's reaction tweets, jokes…
Kanye: Yoooo they banned my album cover!!!!! Ima tweet it in a few…
Kanye: Banned in the USA!!! They don't want me chilling on the couch with my phoenix!
Kanye: In the 70s album covers had actual nudity… It's so funny that people forget that… Everything has been so commercialized now.
Kanye: So Nirvana can have a naked human being on they cover but I can't have a PAINTING of a monster with no arms and a polka dot tail and wings
Kanye: In all honesty … I really don't be thinking about Wal-Mart when I make my music or album covers
Tags: 2010, Album Cover, art, Banned, Kanye West, Music
This entry was posted on Tuesday, October 19th, 2010 at 11:17 am and is filed under Art, Music. You can follow any responses to this entry through the RSS 2.0 feed. You can leave a response, or trackback from your own site.