Mixtape : Movember Thanky Stanky
December 1st, 2011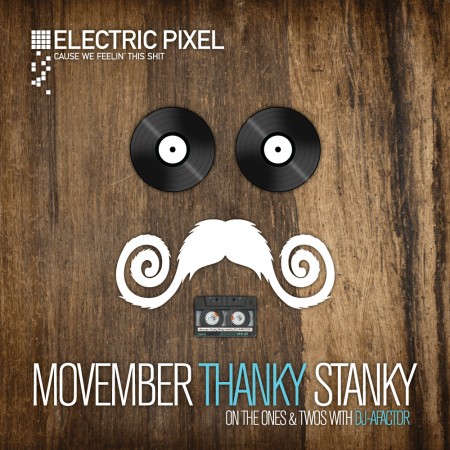 Canadian men raised $32 million for movember's annual prostate cancer research fundraiser, more than any other country in the world! (Australia $22.5 mil, US $12 mil). In honor of this great achievement Electric Pixel brings you Movember Thanky Stanky, a quick mixtape by our resident beat master, DJ A-Factor. Music drives the creative brains at EP so last night we unleashed the A-Factor behind the 1's & 2's to put together a sample of beats we were feelin' this past month.
Click HERE to download. Enjoy!
Tracklist after the jump….
TAKE CARE – DRAKE
HEARTBEAT – CHILDISH GAMBINO
FIND YOUR LOVE – DRAKE
ALL OF THE LIGHTS – KANYE WEST
CAMERAS – DRAKE
LOTUS FLOWER BOMB – WALE
LONNY – FRANK OCEAN
AMBITION – WALE
BLAME GAME – KANYE WEST
SAILING NOT SELLING – JHENE AIKO
MURDER TO EXCELLENCE – JAY-Z & KANYE WEST
FLY TOGETHER – RED CAFE
G.O.O.D. FRIDAY – KANYE WEST
POT OF GOLD – GAME
SHIT GOD DAMN – CHRIS BROWN
SHE AIN'T – CHRIS BROWN
OFFICIAL – Q-TIP
HAPPINESS – FOREIGN EXCHANGE
CAN WE KICK IT? – A TRIBE CALLED QUEST
LOVECRIMES – FRANK OCEAN
THE ZONE – THE WEEKND
Tags: A Tribe Called Quest, childish gambino, chris brown, DJ, DJ A-Factor, drake, Frank Ocean, Hip hop, Jay-Z, jehene aiko, Kanye West, Mixtape, movember, Music, q-tip, R&B, rnb, the game, The Weeknd, turntables, wale
This entry was posted on Thursday, December 1st, 2011 at 9:53 am and is filed under Mixtapes, Music. You can follow any responses to this entry through the RSS 2.0 feed. You can leave a response, or trackback from your own site.