Social Media No-No's For A Business
August 6th, 2013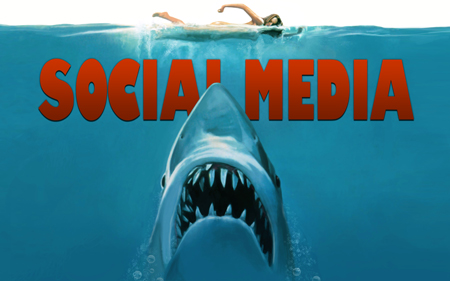 Let's talk.
You have a business and want to start (START?) using social media, but you are not sure exactly what works and what doesn't. Use it the right way, and you will benefit greatly. Use it the wrong way, and you can very quickly get yourself into a PR nightmare. Here are some things you should avoid doing if you don't want to get yourself in an internet pickle on today's most popular social networks.
Read on after the jump…
1. Don't be a newbie
Make sure you have someone on your team with outstanding knowledge of social media to represent you. This is the most important step. Just like you would hire a skilled sales representative to serve your customers and gain new ones, your social media manager should know exactly which strategy to use, and how to post on behalf of your business. We're at a point in our digital age where social media experts exist — and it's a good thing. This is a strong part of web-marketing, and I wouldn't suggest handing it off to your 17 year old niece just because she loves Instagram. Strategy, reports, advertising, scheduled posting, copy writing, design, market research, demographic targeting and customer service can be your social media manager's responsibilities. Having someone completely devoted to your web presence also means you don't have to do it yourself; which does require a lot of time, as it should.
2. Spam Part 1
Posting often is important — posting too much is dangerous. Not only can you annoy your audience, but you can also look like you are testing out what works, and what doesn't. Posting less frequently, but confidently, will show that you know what your clients want to see.
Spam Part 2
Posting as your business on other blogs and other companies' pages can be a great way to create relationships. If you choose to do this, however, be genuine. You'll be considered a spammer if you only communicate with other businesses by promoting yourself. Making friends on social media should be similar to making friends in real life  — and nobody likes a faker. Over the years, I've made Twitter-relationships with companies that were not competitors, simply because they had a fun social media presence. This created a mutual support, and greatly benefited everyone in the end. Twitter buds WILL retweet you!

3. Snapping
Sometimes, customers will write a bad review or comment. Deleting their comments will make you look insecure; leave the comments on your feed if they are not offensive. Censoring comments defeats the purpose of using social media where your audience can connect with you and express itself to you. The best thing you can do? Listen to them! Snapping will never go unnoticed. Have you ever seen a business have a meltdown on Facebook? Here is a sad example.
4. Too much variety
This goes hand-in-hand with tip #1. If you have an expert on your team, you probably don't have to worry about this one. If you're handling social media by yourself, it is important that you choose websites that make sense for your company. Signing up for every social network will make your strategy look messy. Does it make sense for your security company to be on Pinterest? If you make it work, go ahead, just don't pin one image and leave it alone. You have to commit to all the platforms you will be using to look consistent.
5. Business talk
"15% off all weekend!" "Try our delicious hot dogs!" "Visit our location!" "Find our locations!" Are you tired yet? I can go on and on. This is a common mistake made by businesses online. The internet is a unique place for you to interact with your fans – don't bore or overload them with static ads! It will make you look cold and desperate. Be approachable, interesting, and push the boundaries of your industry. People will thank you for it by commenting and interacting with you, which is the best part of social media!
6. Fake comments
As mentioned in #3, negative comments happen. Trying to drown the negative feedback by writing your own using fake accounts is not the way to go; it can be very obvious. Many review websites actually filter reviews and block fake ones! If you want to increase positive feedback, ask your happy clients if they would like to write a quick review.
If you are ready to start your social media pages, you might want to consider the above tips. Of course, we have to remember that there are always exceptions, and that each situation is unique. Use your common sense and the advice of experts. Most importantly: have fun! We are at such an exciting time in the digital age, it would be a shame for your business to miss out.
Tags: Facebook, how to, how to use social media, management, no nos, PR, Social Media, steps, twitter
This entry was posted on Tuesday, August 6th, 2013 at 2:13 pm and is filed under Social Media. You can follow any responses to this entry through the RSS 2.0 feed. You can leave a response, or trackback from your own site.